Bradford Tax Solutions Seminar
Virtual |
November 17, 2022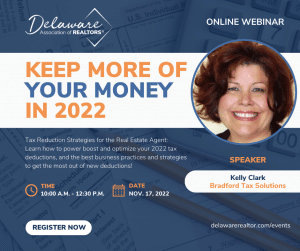 Here's some of what you'll learn:
•HOW to POWER BOOST Your NEW 2022 deductions: Best business practicesto optimize tax benefits and understand your elite status as a taxpayer.
•HOW TO qualify for Your NEW 2022 BIG Deductions NOW!
•HOW TO deduct all of your FAMILY'S MEDICAL COSTS-even dental-as a realestate BUSINESS expense!
•Why your accountant can't "just take" the deductions for you.
•HOW to deduct your Home Office…simplified, made safe, and expanded tomultiple deductions! Learn the rules to INCREASE this deduction!
•WHY you may want to buy a new or pre-owned car sooner than youthink…the great new "makeover" of the CAR DEDUCTION rules you will wantto take advantage of!
•THE New…and Improved…food and beverage deductions for realestate professionals that you probably don't know about.
After this seminar, you'll have what you need to bring to your tax accountant, so you can keep more of your income this year and beyond!