Registration is now closed, but on-site registration will be available to the first 50 members who show on Tuesday.

monday, October 16, 2023
Check-in hours
12:00- 4:30 p.m.
You will need to check-in to receive your event badge and welcome bag. This will be located at the entrance of the expo located at the rear right corner of Hyatt Place Dewey Beach.
Continuing education Classes (ADVANCED REGISTRATION required to attend)
1:00- 4:00 p.m.
Mod 2: The Code of Ethics and its Enforcement– Bruce Plummer, REALTOR® Coldwell Banker Premier, Meeting Place 1/2 (Sponsored by: Cutco Closing Gifts)
Satisfy your NAR Code of Ethics requirement with this 3-hour continuing education course. You will understand the premise of the Code of Ethics and the process an ethics or arbitration complaint goes through. Then, you'll go through examples of the articles of the code and review case studies to put your knowledge to the test.

Mod 6: Growing Your Real Estate Business Providing Short Sale Services– Bill/Denise McCormick, CK Capital Management, Sunset 1 (Sponsored by: Cutco Closing Gifts)
Gain the knowledge and expertise to assist homeowners who are struggling financially and can no longer afford their mortgage. You will learn the options available to homeowners who are not able to pay their mortgage debt and how to avoid foreclosure. This course will give an overview of the benefits of a short sale as a viable option to avoid foreclosure minimizing the negative credit score impact, resulting in the settlement of all mortgage debt, and providing tax relief on forgiven debt.

Mod 7: Market Like a Rockstar on a Roadies Budget– Craig Grant, CEO, The Real Estate Technology Institute, Sunset 2 (Sponsored by: ProMortgage)
Today's consumers are constantly being overwhelmed with marketing in all aspects of their daily lives which makes it harder than ever to effectively reach themIn this session, we will explore how and why consumer behaviors and marketing have changed. We will also provide each attendee with a guidebook to follow, which focuses on relationship-based marketing techniques and the use of digital options such as social media, video, blogging, and more. The guidebook aims to help attendees connect with their target audience, foster relationships, build digital communities, and achieve more effective marketing strategies.
ypn happy hour
4:30 p.m., Hyatt Ballroom, Sponsored by Local REALTOR® Associations' Young Professionals Network
Party before the party
Elevate your networking game at the YPN happy hour, where good vibes, great company, and irresistible drinks set the stage for the DAR 302 Reception to follow.
DAR 302 welcome Reception & awards
5:30 p.m., Hyatt Ballroom, Sponsored by Sussex County Association of REALTORS®
Let's celebrate who we R®
Join us for a special recognition program to honor our local Good Neighbor award recipients, 2023 RPAC Hall of Fame inductees, and the REALTOR® of the Year. Then let's relax with cocktails, hors d'oeuvres, and music.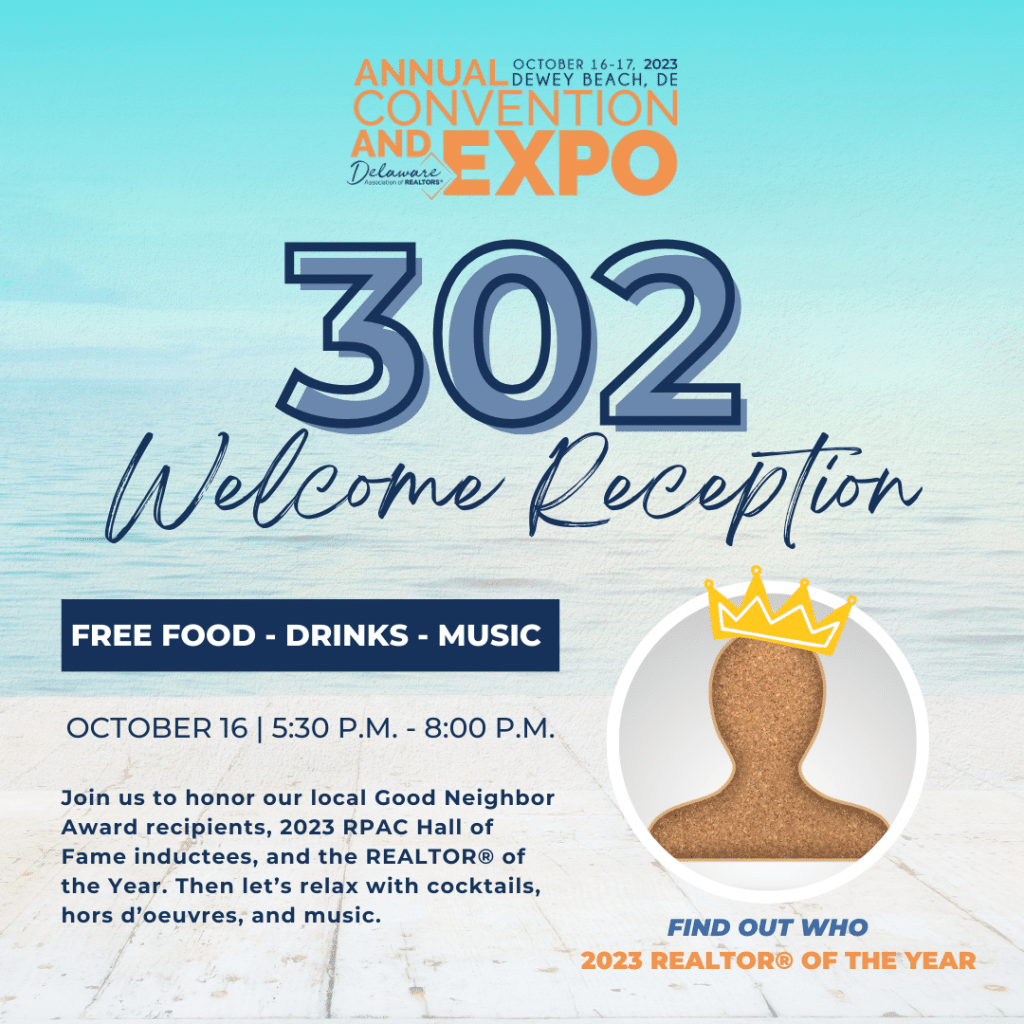 tuesDAY, October 17, 2023
Check-in hours
7:30 a.m.- 4:30 p.m.
You will need to check-in to receive your event badge and welcome bag. This will be located at the entrance of the expo located at the rear right corner of Hyatt Place Dewey Beach.

DAR EXPO
7:30 a.m. – 3:00 p.m.
Visit with our vendors during the DAR Expo and win great prizes by having your Beach Tag (formerly the Pit Pass) verified by participating vendors. Beach tags with verification from all vendors listed will qualify you for a prize drawing following the event.

Continuing Education CLASSES (ADVANCED REGISTRATION required to attend)
8:00 a.m.- 11:00 a.m.
Mod 3: Real Estate Jeopardy- Documents – Barbara Brodoway, Esq. Ward & Taylor, LLC, Meeting Place 1/2 (Sponsored by: ProMortgage)
In this interactive session, attendees will participate as contestants in a lively "Jeopardy" style course. The focus will be on reviewing essential documents such as the Delaware Association of REALTORS® Agreement of Sale and the recently revised Seller's Disclosure. Additionally, general real estate-related topics will be covered, making this an informative and entertaining learning experience.

12:00 p.m.- 3:00 p.m.
Mod 5: Legislative Issues – Andy Taylor, Esq. Copeland Taylor Harpell, LLC, Meeting Place 1/2 (Sponsored by: ProMortgage)
This course will ensure that you stay up to date with the latest legislative issues impacting the Delaware Real Estate community. Throughout the course, you will learn about recently passed and proposed legislation that directly affects your business, and you will be given the tools to navigate these new laws effectively. In addition, the course will cover state regulatory changes, keeping you informed about recent licensing law updates from the Delaware Real Estate Commission. Furthermore, federal legislative and regulatory changes that impact the real estate industry will also be covered.

1:00 p.m.- 4:00 p.m.
Mod 1: Agency & Fair Housing – Shirley Kalvinsky, REALTOR® Jack Lingo, REALTORS®, Sunset 2 (Sponsored by: Capital Bank)
Enhance your understanding of Agency & Fair Housing topics with this informative course. It will provide a comprehensive review of current statutory agency requirements and explore traditional Common Law agency practices. Additionally, a significant portion of the course will be dedicated to the important subject of Fair Housing. This section will cover a detailed examination of state and federal fair housing laws, as well as the historical development of fair housing policies. To test your knowledge and reinforce key concepts, you will engage in case studies and scenario-based exercises.

professional development sessions (non-ce sessions)
8:30 a.m.- 9:30 a.m.
Setting the Stage for Real Estate Industry Transformation– Bright MLS: Brian Donnellan, President & CEO Bright MLS, Ballroom East
Bright CEO Brian Donnellan breaks down the key drivers of change in the real estate industry, their impact on legal and technology adoption, and helps the audience understand the challenges the industry faces from emerging trends. Afterwards, Brian will host a panel session, featuring several key agents and brokers, to discuss the industry and trends.

8:30 a.m. – 10:00 a.m.
Get Out of your Comfort Zone to get More Listings in any Market– Creig Northrop, CEO/ Founder Northrop Realty, Sunset 1 (Sponsored by Ridgway Law Group)
Creig Northrop will teach techniques to open your mind, reduce your fears, and refine your skills to assist you in getting more listings in any market, and ultimately become a master real estate agent.
9:00 a.m.- 10:30 a.m.
How to be a Successful Dual Career Real Estate Agent– Wanda Russell, REALTOR® Keller Williams, Ballroom West (Sponsored by: Big Centric Appliances)
Explore the path to success as a Dual Career Real Estate Agent while achieving a healthy work-life balance. This session will equip you with effective strategies to manage your time intentionally and purposefully, enabling you to thrive in both your professional and personal pursuits. Drawing from Russell's book, "The Dual Career," you will benefit from his wealth of experience, practical insights, and proven procedures. Join us as we delve into practical techniques for success in the dual career realm.
9:00 a.m.- 10:30 a.m. (Advanced registration required to attend)
The Power of Play– ViaDel Consulting: David Kubacki, Sunset 2 (Sponsored by: Navy Federal Credit Union)
Unlock the full potential of your team or practice with our hands-on ViaBricks Workshop. Experience the power of LEGO® SERIOUS PLAY® – a facilitated thinking, communication, and problem-solving technique. Engage in interactive LEGO SERIOUS PLAY activities and witness how your team can enhance collaboration, problem-solving, and communication skills. Even individual REALTORS® can benefit from utilizing the LEGO SERIOUS PLAY method to brainstorm ideas, address challenges, or workshop new approaches within the dynamic real estate market. Embrace the concept of "play at work" to foster work-life balance and strengthen connections among team members in the post-Covid/hybrid workplace. As a bonus, this workshop includes a custom LEGO set that can be utilized for individual or team activities beyond the workshop.
10:30 a.m.- 11:30 a.m.
The Art of Badassery– Jenn Cassetta, Speaker & Author, Ballroom East (Sponsored by: Cutco Closing Gifts)
With levels of burnout, exhaustion, and chronic stress at all-time highs, The Art of Badassery is the solution and framework to help you reclaim your power and well-being. We'll dive into topics that include resilience building, boundary setting, powerfully communicating, self-care, and leadership. Interactive exercises will have you incorporating the dojo wisdom into your mind, body, and spirit in real time. You'll leave as a "black belt in badassery," with practical tools that help you feel more confident, energetic, and powerful in both your personal and professional life.
10:30 a.m.- 12:00 p.m.
Real Estate Best Practices– Nitan Soni, REALTOR® Northrop Realty, Sunset 1 (Sponsored by: Big Centric Appliances)
Let's talk through the who, what, and how of being a REALTOR®. Understand the business of real estate as a service and the distinct role of the agent, identify the elements that result in strong client engagement and that leads to long term trust. An interactive class with open discussion, role play and specific insights to help set the correct mindset for new and seasoned agents.
11:00 a.m.- 12:30 p.m.
Legal Landscape- Bright MLS: Brian Schneider, Bright MLS Legal Counsel & Partner ArentFox Schiff, Ballroom West
A walk and talk through of the various legal cases working their way through the court system that are challenging a variety of policies, rules, and aspects of the industry. Leading Bright MLS counsel, Brian Schneider, updates attendees on the latest and offers clear and straightforward information about what they mean, and how they could potentially impact the industry moving forward. After, he will moderate a panel session of local association attorneys to discuss regional and local buances and implications of the cases.

11:00 a.m.- 12:30 p.m. (Advanced registration required to attend)
Discover Your Strengths– ViaDel Consulting: David Kubacki, Sunset 2 (Sponsored by Crown Home Mortgage)
Unlock the full potential of your team with this engaging ViaStrengths Workshop. Participants will explore their individual and collective strengths using the GALLUP® CliftonStrengths® framework. People who focus on their strengths are 3x as likely to report having an excellent quality of life and 6x as likely to be actively engaged in their jobs. This session will explore practical plans for leveraging strengths, improving communication, and tackling challenges more effectively in the workplace. Whether focusing on your own strengths to become a more confident REALTOR®, or using strengths to improve your team, this session is for you! Those who register in advance will be given a code to complete the CliftonStrengths assessment prior to the convention.

12:30 p.m.- 1:30 p.m.
The Art of REALTOR® Safety– Jenn Cassetta, Speaker & Author, Sunset 1
The Art of REALTOR® Safety is an interactive program that empowers you to feel more safe and confident from the streets to the open house. Self-defense expert, Jennifer Cassetta, leads an engaging presentation with takeaways that help you avoid danger when possible and defend yourself when necessary. She'll teach you how to: use a "detective mindset" to tap into your intuition, move through the fear response so you can make calculated decisions, move through homes and meet with strangers with confidence and power and how to use your body as a weapon for self defense.
12:30 p.m.- 2:00 p.m.
35 Ways to Avoid Burnout– Ashley Harwood, REALTOR® CEO & Founder, Move Over Extroverts, Ballroom East (Sponsored by: Cutco Closing Gifts)
We've all heard of burnout, but why is it detrimental? And, more importantly, how can we avoid it without simply being on vacation all the time? In this session, agents will learn the dangers of burning out, both to their businesses and to their overall health. The bulk of the session consists of 35 simple, tangible ways to avoid burnout. We end with a selection process, so agents leave with 3-5 strategies to implement immediately.
1:00 p.m.- 2:30 p.m.
Technology and Data Trends- Bright MLS: Tom Morgan, Bright MLS Chief Data Officer, Ballroom West
The real estate industry is undergoing a rapid transformation with an array of proptech innovations such as virtual reality tours and AI-powered tools. In this session, leading data experts will provide valuable insights into the latest tools, trends, and advances that agents and brokers need to stay competitive and thrive in the marketplace. Additionally, the unique data privacy and security challenges faced by the industry will be explored, along with best practices for protecting sensitive information. Following this, a panel of early adopters, consisting of agents and brokers, will be led by Tom and Scott to discuss the evolving technology landscape, future developments, and provide candid feedback on what the marketplace needs to better support agents' success.
2:30 p.m.- 4 p.m.
Broker Roundtables– Chrissy Steele, REALTOR® and President of the Delaware Association of REALTORS®, Sunset 1
Engage in meaningful dialogue with fellow colleagues and industry professionals in our informal roundtable event designed for active brokers and managers. Join us as we discuss relevant topics that directly impact your business and agents. This interactive session offers a platform to exchange ideas, share insights, and collaborate on solutions within a supportive environment. Don't miss this opportunity to connect with like-minded professionals and gain valuable perspectives to enhance your business strategies.
3:00 p.m.- 4 p.m.
Housing Market Trends and Closing Panel Discuss: Future Perspectives and Trends- Bright MLS: Dr. Lisa Strutevant, Chief Economist, Ballroom East
Dr. Lisa Strutevant provides the latest news and insights into the housing market across the Mid-Atlantic and Delaware regions. Attendees will receive up-to-the-minute information on important sectors like second homes and vacation properties, benefiting their business with home buyers and sellers. Following the session, a panel discussion with industry leaders, legal experts, and technologists will explore future directions in real estate, including anticipated legal and technological advancements and their impact on professionals in the field.
beach party
4:00 p.m., Hyatt Beachfront
Sand, Sun, and Sips!
Feel the sand between your toes, soak up the sun, and indulge in delicious tropical drinks while enjoying some beach games and live music. Then we'll head inside for Casino Night!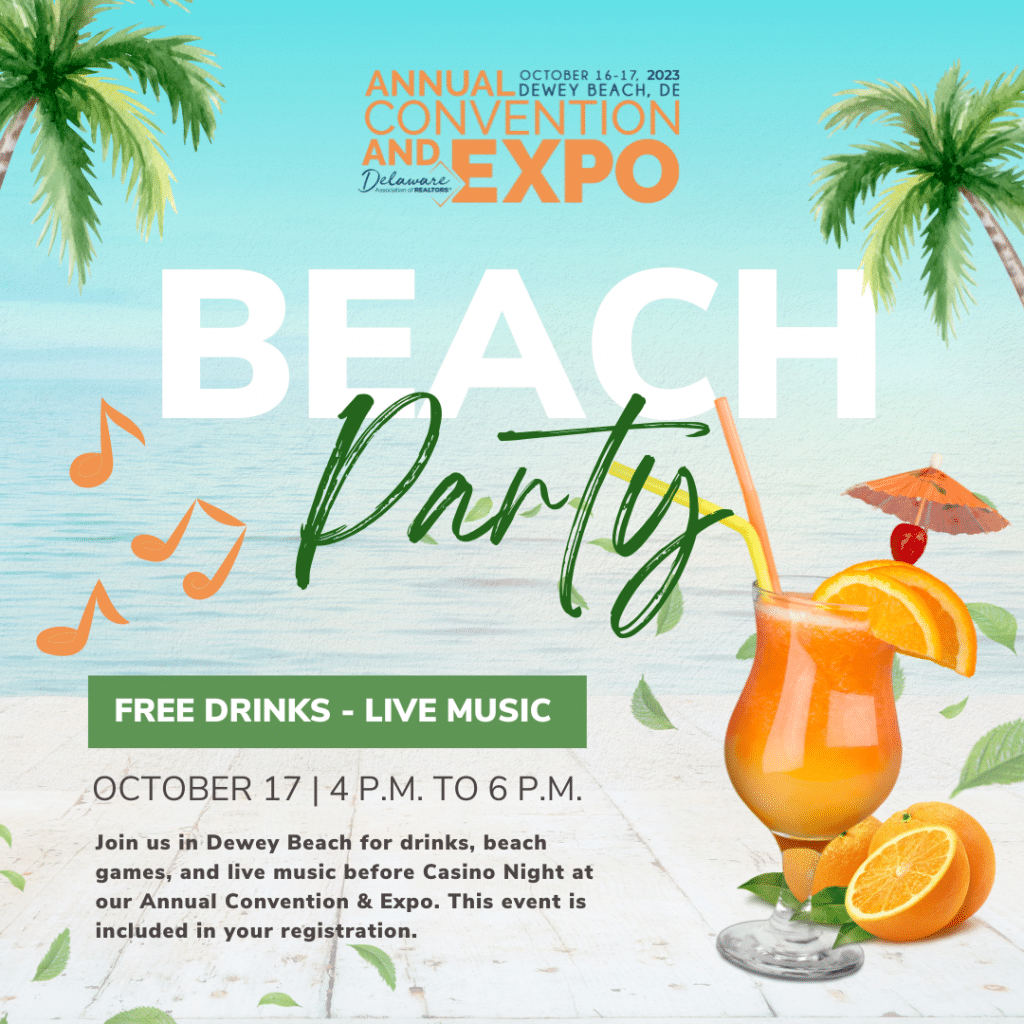 casino night (Ticketed event $125 contribution)
6:00 p.m., Hyatt Ballroom
Proceeds go to our nonprofit: The Delaware REALTORS® Care Fund!
The Care Fund provides emergency assistance for our REALTOR® members and others in our communities who are impacted by natural disasters or have a critical need. Your participation in our Casino Night will have a huge impact on our ability to provide that support. For a contribution of $125. Afterwards, join us for s'more fun with bonfires on the beach.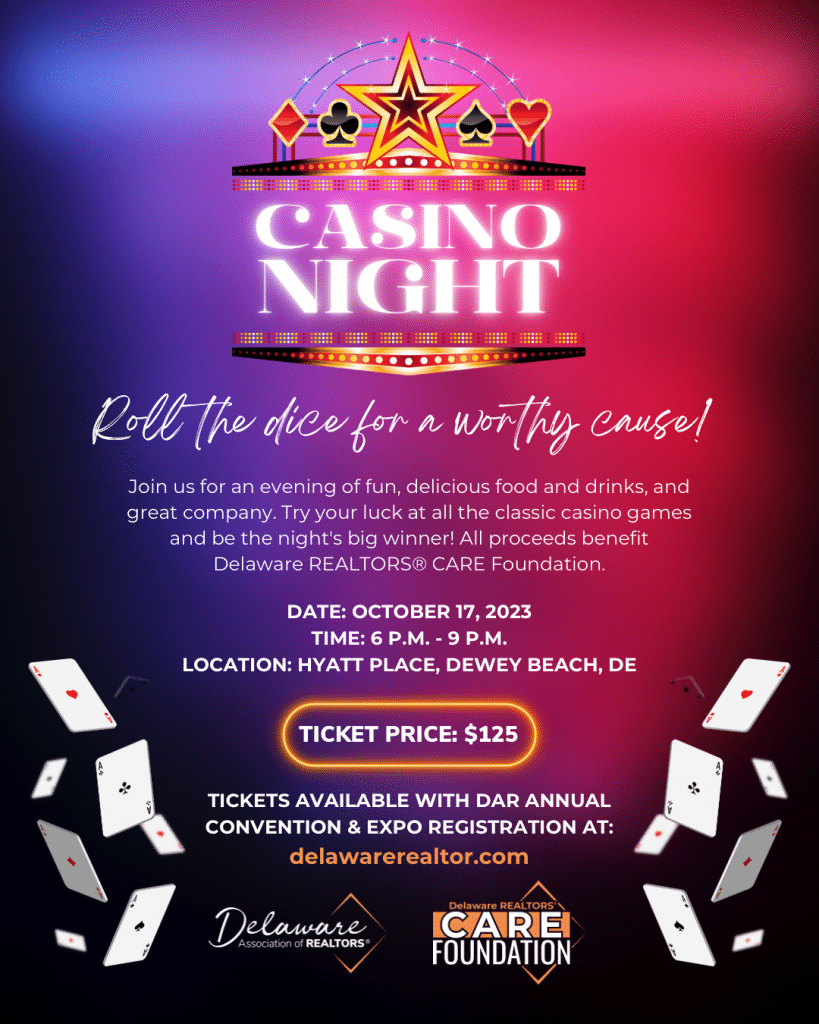 Accommodations
Elevate your convention experience and stay with us at the beach! Bookings must be made before September 15, 2023.
Hyatt Place:
Dates applicable: October 15-18
Discounted Rate: $139
Discount Code: G-DAR1
Gold Leaf Hotel:
Dates applicable: October 15-18
Discounted Rate: $80
Must ask for the discounted rate with the Delaware Association of REALTORS®
To book, call 302-226-1100

Important notices
In order to continue bringing quality content to our members, we've needed to update some of our policies.
No-Show Fee: A fee of $125 will be applied to anyone who registers, but fails to attend without canceling. This fee must be settled before registering for another DAR event. Ensure you cancel by October 11 to avoid this fee.
Nonmember Registration: Nonmembers are welcome to register for a fee of $175.
Registration Deadline: Please note that the deadline to register is September 20 at 4:00 p.m.


thank you to our
2023 Sponsors and Exhibitors!
Presenting Sponsor

gold Sponsors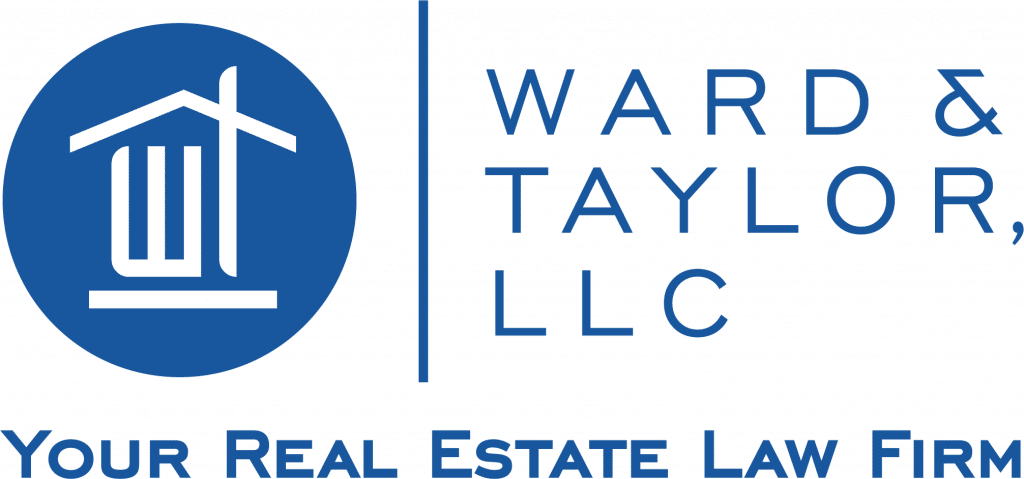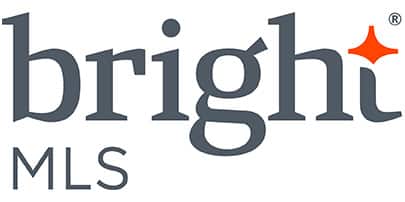 Silver Sponsors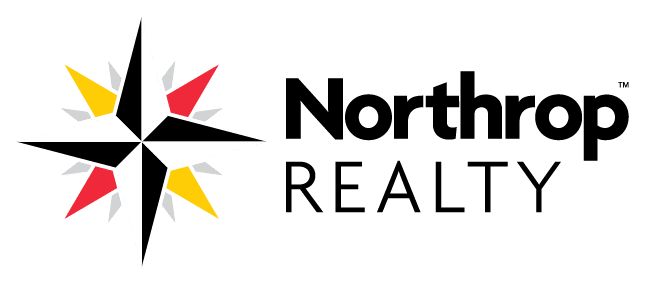 DAR 302 welcome reception & awards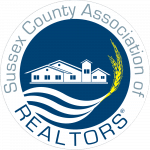 2023 DAr EXPO Exhibitors
American Home Shield
America's Preferred Home Warranty
AmeriSpec Inspection Services
Artisans' Bank
BigCentric Appliances
Bright MLS
Central DE Association of Realtists
CK Capital Management
Crown Home Mortgage
Cutco Closing Gifts
Delaware State Housing Authority
Del-One Federal Credit Union
Fulton Mortgage Company
Home Warranty Inc.
Horizon Farm Credit
JS Homes
Kim Benton State Farm
Movement Mortgage
Navy Federal Credit Union
Neighbor Good Partners
Northrop Realty
Pike Creek Mortgage Services, Inc.
Pro Mortgage
Pro-spect Inspection Services
Reliable Home Inspection Service
Residential RE Council
The Paisley Box
USDA Rural Development
Vacasa
Ward & Taylor, LLC
Wolfe & Associates
WSFS Mortgage
Sponsorship opportunities for the 2023 DAR Convention are no longer available.
Please visit this page to remain informed about sponsorship opportunities for the 2024 Convention.